25 July 2022
Create cool, stylish offices to enhance workflow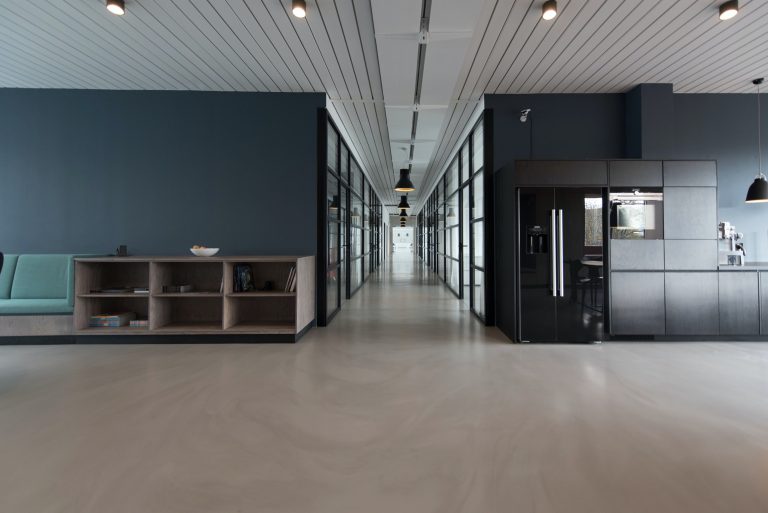 Having an inspired team who want to achieve further and better is what every leader wants to nurture in the workplace. Empowering work colleagues to fuel their imagination to produce fresh and innovative ideas can only by a good thing.
What's more, creating a stylish office space can work wonders in terms of boosting employee satisfaction and productivity.
But, how do you provide the kind of stylish offices that becomes a hothouse of creativity? Thinking carefully about the location you're in and the physical nature of your surroundings can be really positive and help propel your employees to new heights of ingenuity.
In fact, recent research by Steelcase reports that when people like the environment where they work, they're more likely to engage with their projects and stay for longer in their position.
Plus, the study states that around 61% of workers love a bit of stylish, private space in the office where they can regroup and rejuvenate during the day.
The benefit of space
At first, it can be quite a challenge to maintain a nice balance between space for collaborate teamwork and space for those who want to get on with something by themselves for a while.
It appears that having room for both within your workplace not only creates stylish office space, but also has a really positive impact on colleagues. Being surrounded by space and air can really help people feel like they can breathe to zone in on what they want to achieve.
According to the Journal of Environmental Psychology, constructing areas for individual productivity and separate places for more collaborative projects is vital to workplace happiness.
Plus, it's easier to maintain cool, stylish office spaces when there is a clear objective for each area. This can lead to impactful colour and furniture choices that make the most of the space for employees and clients alike.
Commenting on this topic, Mark Eltringham (office space specialist), says:
"An office that encourages people to move and be aware of the natural world is not just good for physical and psychological wellbeing, it allows us to work in different ways that are best suited to the ways our brains function."
The beauty of light
Enabling people to make the most of both natural and artificial light during the working day can be very influential on work processes, but also how stylish the office actually looks and feels.
Most people will feel happier and more alert in a space that maximises natural light at key points in the day. Small Business reports that having an open blind policy for the most part can empower colleagues to feel more productive and also influences visitors to your office to believe it's a stylish, cool and attractive environment.
You can also optimise light with control technologies that reflect the trajectory of natural light throughout the day. You could create brighter light in the mornings for an energetic atmosphere and softer light in the afternoon to help people feel more chilled.
How can I make my office stylish?
There's no end of possibilities when it comes to designing stylish offices. Crafting a cool workplace that people look forward to spending time in is no small feat. But, with careful planning and a little inventive thought, you can conceive an original and, more importantly, inspirational setting.
Choosing a layout that helps you achieve your business goals is as important, but making it stylish and cool helps the whole deal. In response to this, Knight Frank believes that adding in accent furniture pieces and making sure the look reinforces your brand identity enables a clear and productive vision in which colleagues feel they play a vital role.
You might want to engage the services of an office design company, such as the award-winning Oktra, to support you in your quest for an elegant and stylish office.
The attraction of office décor
Colour is powerful and conveys both conscious and sub-conscious impressions to workers and visitors. It can help construct a clever brand vision or it can detract and depress if done incorrectly.
The psychology of colour is something we may not be aware of, but it plays a significant role in our everyday lives, including in the creation of a stylish office space. It can help businesses tap into the potential of their branding and also enable instant recognition so that both workers and clients feel aligned and on board with your company.
Apparently, both blue and green are great colour choices for productivity and a sense of calm in the workplace. In fact, this sense of calm can lend itself to an atmosphere of cool sophistication, realising that stylish office space you've been searching for.
The power of plants
Bringing nature inside will undoubtedly add to the stylish feel of the place while boosting the wellbeing of employees and visitors. The University of Exeter completed a study that found incorporating plants into the workplace could result in a 15% increase in productivity.
The study illustrated how embellishing office décor with a range of beautiful greenery can optimise the cool elegance of the place, and at the same time encourage people to feel at one with their environment to improve work-life balance.
Looking for stylish office space?
Securing a beautiful and stylish office space that exactly meets your needs is something we are very good at here at Sketch Labs HQ. We listen carefully to your requirements and have the capacity to locate your new place quickly and efficiently.
Contact Sketch Labs today if you want to find your perfectly stylish office space. We are pretty expert at making your search nice and simple, plus we really do save you time and money. Better yet, our initial services are free.
Schedule a chat with us on our website, so we can connect and help you realise your vision of a cool, stylish office space.